COELIAC AUSTRALIA ENDORSED
Written by Administrator
Monday, 12 March 2012
NATURE'S BLEND OMEGA® SPREADS COELIAC AUSTRALIA endorsed
Nature's Blend OMEGA® Peanut Butter and OMEGAHONEY® are the first Peanut Butter or Honey to be endorsed by Coeliac Australia. Nature's Blend have been spreading the word on Omega-3, now they are also spreading the word on Gluten Free. Their OMEGA® Gluten Free FUNctional FOODS spreads range which includes OMEGAMITE® Yeast Spread, OMEGA® PEANUT BUTTER, OMEGAHONEY® and OMEGAMAYO® are all endorsed by Coeliac Australia.
Coeliac Disease (pronounced seel-ee-ak) a gluten intolerance is a widespread health issue that has only recently been medically diagnosed. It is estimated there are 280,000 Coeliacs in Australia.
Timely endorsement of the Nature's Blend Gluten Free OMEGA® spreads coincides with Coeliac Awareness Week 13-20 March 2012. The OmegaChef®, the OmegaKids®- Cinta and Bastian together with the Omegabees® are also helping to grow awareness.
So start the day right and take the OMEGA CHALLENGE. OMEGASTART your day! It's the most fun and easy way to get your OMEGAS!
Nature's Blend are "Putting the FUN in FUNctional FOODS" while 'MAKING GOOD FOODS BETTER".
• OMEGASMART Peanut Butter first peanut butter to be endorsed by Coeliac Australia.
• OMEGAHONEY first honey to be endorsed by Coeliac Australia.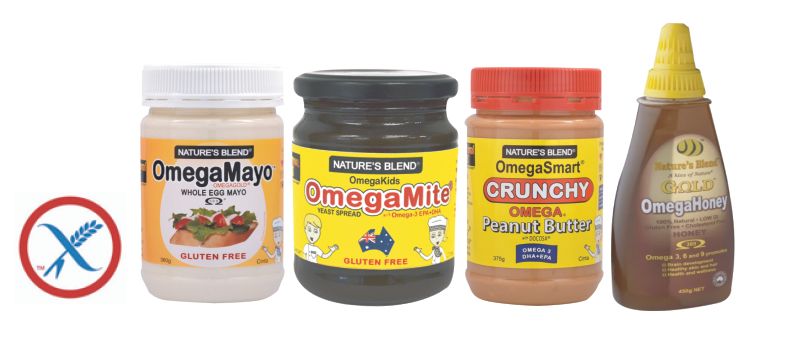 Last Updated ( Tuesday, 13 March 2012 )